Publish Forms is the Entry point to creating skyForms. You may also add new Forms here, edit the name of existing Forms, and delete them. Click the hyperlink for the selected Form to edit the Form.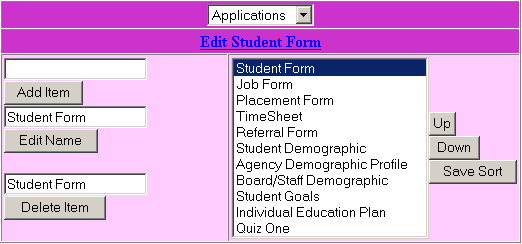 To select a Form for editing, first use the drop-down menu at the top to select a Form Group or Category. When you choose a Form Group, the list of all Forms in the Group appears in the list.
Now select or highlight one of these Forms. The name of the Form appears in two boxes on the left-hand side. To Edit the name, type the new name and click the Edit button. To Delete this Form, click the Delete button.
To Add a new Form, type the name in the upper box on the left-hand side and click the Add button.
You may rearrange the order of the Forms in the list. Select/highlight the Form you want to move and click the Up or Down button to move the Form in the list. Once it is in the right position, click Save Sort.
The name of the selected Form also appears as a hyperlink. This is your entry point to several skyForm tools.
Note: In the next release of skyForms we will change Publish Forms to a File Manager style interface to Forms and call it Manage Forms.

Copyright © 2002 skyBuilders.com, Inc.
77 Huron Avenue, Cambridge, MA 02138 617-876-5680