Reservable Items must be put into Item Groups.
In the Reservations Module, pull down the Context Menu and select Add or Delete An Item Group.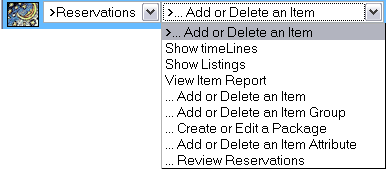 To create an Item Group, enter the Group Name, select a Time Interval in the drop-down menu, and click Add Group.

Suppose we want to reserve rooms in a High School and in a Community Center. By arranging them in Groups, all the High School rooms will appear next to one another in the Calendar timeLines display.
Enter High School for the Group Name and 1 hour for the normal time interval. Click Add Group.
Now enter a second group named Community Center and select 3 hours as the normal time interval for C.C. reservations (you will be able to reserve actual time periods of any length later). Click Add Group again.

Use the Up or Down button to alphabetize the list and click Save Sort.
Now that we have Item Groups, we can add Items to each group.

Copyright © 2002-2006 skyBuilders.com, Inc.
77 Huron Avenue, Cambridge, MA 02138 617-876-5680