Blog Settings let you adjust the number of days that will be shown in your blog, the type of view, the delay in posting a new blog entry, the Page Template, and the CSS style sheet.

The number of days shown defaults to one week.
You have several options for viewing your blog.

You can schedule a new blog entry to appear at a date in the future. This lets you preview it. When you are sure it looks OK, just click Reschedule or Now to make it appear when you want it to.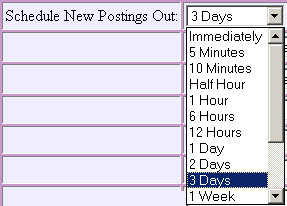 The starting template for a new blog is the same as the default Page Template. This is set in Pages > Module Preferences. You may change this by entering a new path (URL) for Page Template URL in the Settings.
Note that the CSS style sheet is very important for the appearance of the blog. The default style sheet (Blog.css) is kept in the timeLines folder. Create a new one (preferably in a new CSS folder), and use getURL to start with the default style sheet. Once it is edited, enter its path into the CSS URL Setting.

Copyright © 2003-2004 skyBuilders.com, Inc.
77 Huron Avenue, Cambridge, MA 02138 617-876-5680