skyBuilders Forums are built on top of the discussion threads available on every skyPage. Members can put themselves into Interests, and each Interest can have an associated Forum. (A Forum is also known as a Message Board or Bulletin Board.)
So a Forum is a page that has been associated with an Interest. When anyone posts a comment to the page (either starting a new discussion thread or replying to an existing thread), those comments are emailed to all those associated with the Interest Forum.
To see all the Forums available, use this Forums > Browser.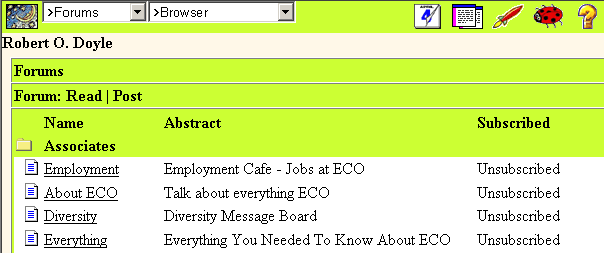 In the Forums > Browser Context, you can select a Forum, then Read it and Post messages to it. When a Forum is selected, it becomes black, and the Read and Post links are activated.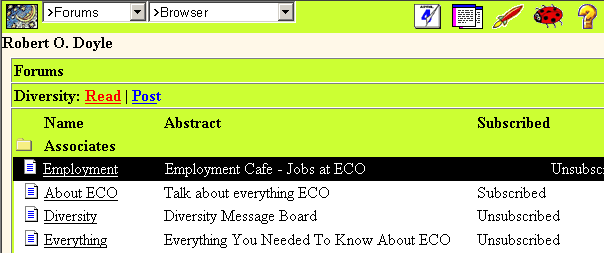 Use the Forums Subscription page to manage your subscriptions. Just click on a page there to toggle back and forth between Subscribed and Unsubscribed for Forum Posts.
Copyright © 2002 skyBuilders.com, Inc.
77 Huron Avenue, Cambridge, MA 02138 617-876-5680