In this page and four supporting pages, you can enter multiple names, email addresses, telephone numbers, and addresses. Just open the folders Names, Emails, etc.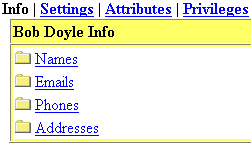 You can then set to "public" the ones that you want to appear when others search for your personal information. They will be used to help locate you in the search. Private items are visible to the site Administrator, but will not be visible to others.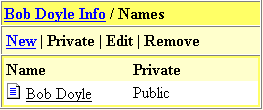 Why do you need multiple names? You may want to enter a nickname, and then people searching on the nickname will find you. You may also want to choose a special "handle" or "username" to show up in timeLines under the Calendar when you log on. This name will also appear in other parts of timeLines to identify you, for example in reservations you make. The handle can effectively hide your identity.
You decide which name and email are your primary ones in Welcome > Edit Personal Settings.
Don't forget to submit (Save) your new information.
<%= CopyrightString %>