Use this page to set global administrative information for your organization. Select one of the Preferences and click Edit to change its value (or double click a preference).
The Organization Name is used in various text strings in the program interface. Enter the organization name that you wish your members and visitors to see when they use timeLines.

The Allow Guest choice will let a guest enter from the main login page by clicking on an Enter As Guest link. If you would like your site to be accessible only to members, set this option to "No."
Your Organization HomePage is the URL to which the logo over the Calendar will link. This is usually the main entrance to your web site. Always start your address with "http://" and be sure to test your link.
Administrator Email sets the address for any link in the interface which emails the administrator. You can enter multiple, comma-delimited email addresses.
Starting Password sets the initial password for all new members. Remind them to change their personal password the first time they log on to the site.
Choose Language sets the default language for the interface. Individual members may change their personal interface language preference under Welcome > Edit Personal Settings.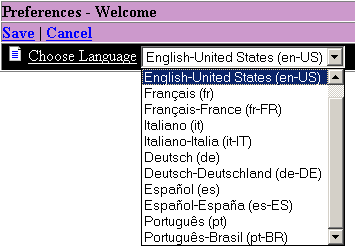 The Large Icon URL and Small Icon URL are the web addresses of the image files used for the small logo over the Calendar (when you Show Calendar) and the large logo that appears when you first enter timeLines. Always start your address with "http://" and be sure the right image is showing up!
Debugging is a tool for developers, who may capture values in Javascript which get reported to a debugging window.
Name Option determines how member names will be displayed in timeLines - username, email, full name, full name with middle initial, last name only, or anonymous.
User Info Default is the initial setting for User Information like phone number, address, etc. The user can override this setting. If it is "public," they can "opt out." If it is "private," they can "opt in."
Server Time Zone should match the physical location of the community computer web server. The clock on this computer synchronizes timeLines.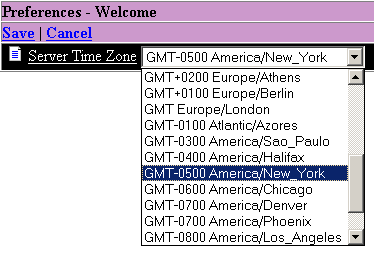 Daylight Savings should agree with the setting on the clock on the community computer.
Administrator Notification controls automatic emails sent to the administrator(s) on various actions within timeLines, e.g., when new pages are created, events are entered, etc.
A Digital Certificate enables the site to encrypt transmission of web pages using secure sockets layer - SSL (pages are accessed using the secure protocol https://). It is critical for e-commerce (accepting credit card numbers, etc.).
Show Associated Users allows you to hide or display names of users associated with pages, events, etc..
Description allows you to hide or show the description
SMTP Server is the host name of a mail server which is configured to allow mail relaying from your timeLines web server. timeLines functionality relies on the use of email extensively. If your timeLines server installation is not configured to use its own native SMTP server, you must supply another mail server name (Please be aware that the SMTP server named in the illustration, smtp.skybuilders.com, is not an open relay and will not work unless your site is hosted by skyBuilders.)


Copyright © 2002 skyBuilders.com, Inc.
77 Huron Avenue, Cambridge, MA 02138 617-876-5680