To become a User, you must first Apply to Join and enter a Starting Password. Your Starting Password is given to you by the web site administrator.
Click the

button.
You are taken to a dialog box that asks for your first name, last name, and email address. It also asks for the Starting Password. If you do not know the Starting Password, click the Administrator link to send her/him an email requesting one.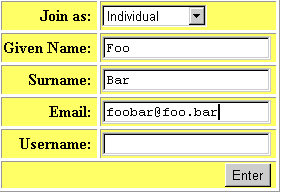 You will be taken to a dialog screen where you can enter more personal information, like your phone number and address information, your home page, etc. You may also change your password there, and then log in to the web site as a Member.
When you log in, you do not need to enter your whole name. A unique part of your name and your password will match. Once logged in, you may change your password in the Welcome module. Welcome > Change Password.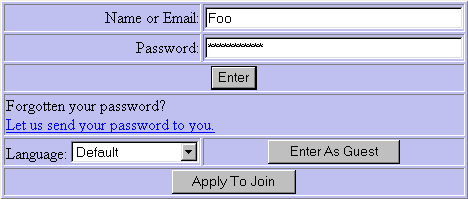 You will be given Normal privileges. You can sign up for Events, make Reservations of Resources, etc. Once you have become a Memebr, you may log in to the timeLines site, or you may embed a skyRocket in a web page or email message, to let you enter a specific Module more quickly. The skyRocket challenges you for your password, then takes you straight in to the requested Module.
Once you are inside, your User Name will appear under the skyBuilders logo (and above the Calendar). This indicates that you are actually inside timeLines, the skyBuilders web application environment. The first thing to do is press the

link on each new page you try.
As a normal User you may see Events schedules, Resources availability, Tasks, etc. You may make Reservations, sign up for Events, etc. Administrators can increase your privileges (separately for each web application module). Remember to press Help as you browse the site.
---